In a month full of predictions and forward-looking posts, my visits to CES and the Detroit Auto Show had me looking backwards.
It struck me that the future of mobility has been paved by massive announcements in 2017.
From the least to most important, here are the 5 things last year that forever changed the future of transportation.
5.  Bike Sharing Goes Bananas 
 ­
I was hesitant to add this to the list but bike-sharing companies had a gigantic year. Raising an astounding $2+ billion dollars in equity financing last year, led by China's Ofo and Mobike, the bike-sharing industry made its mark. US and European bike sharing companies in cities, campus, and residential communities also rode the wave back to the old two-wheeler.
And the consumer adoption is eye-opening. More rides were taken in Q1 (~1 billion) on bike-sharing services in China, than on all ride-sharing services in the US, EMEA, and South East Asia combined.
These developments are important for several reasons.  Biking solves a major concern for congested cities: first and last mile transportation.  It also underscores the importance of multi-modal transportation. Hence, the Ford Motor Company's investment in the stationed bike sharing service, Motivate. Finally, it's a harbinger of what we'll see in 2018. Expect to see more bike lanes, electric bikes, efforts to curb the oversupply of shared bikes, and urban reclamation for greener cityscapes.
4.  Car Retailing Starts To Change 
There were more signs that transportation is moving from the traditional rigid ownership model to a flexible services model. Rather than just shared or on-demand services, car companies, and start-ups offered interesting new buying/leasing options.
Porsche, Cadillac, and Volvo launched monthly subscription services for access to a variety of the manufacturers' newest vehicles.  Best of all for consumers, many monthly subscriptions give them the option to swap out different types of fully-insured and fully-maintained vehicles. Feel like a sedan this week? No problem.  Prefer an SUV for the weekend? Done.  One catch though. Today these premium companies have premium price tags for their monthly subscriptions. Cadillac's service now starts at $1,800/ month.  Unlike a lease or outright ownership model though, there's flexibility to cancel with a 30-day notice.
Startups like Fair, Clutch, and Carma are exploring different ways to solve the retailing challenges that leasing agencies, dealers, or consumers face with pre-owned vehicles.
It's no surprise companies are experimenting with a reimagined car ownership & buying.   According to Autotrader's Car Buyer of the Future Study 1% of all buyers enjoy the current process of buying a new car.
3.   Peak Auto in the Developed World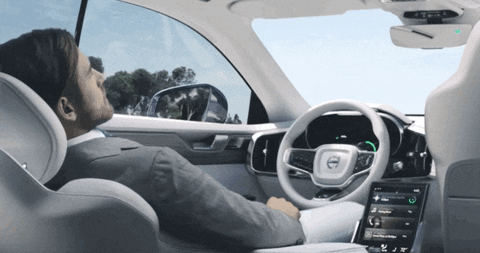 2017 was filled with great news about the continued progress toward self-driven vehicles.
For the first time, companies removed the support driver from the driver's seat and started testing in full-autonomous mode.  With over 4 million miles of autonomous rides in real-world environments and billions of miles in simulation, WayMo demonstrated the confidence they have in their AV technology.  In November, Google's sister company showcased a fully driverless taxi experience in Phoenix.  And they weren't alone. Shuttle bus companies, Easymile, demonstrated a full autonomous shuttle service in Paris and Navya did the same in Las Vegas.
Aside from historic deployments, these massive announcements last year will usher in the self-driving car era.
Last fall, Congress unanimously passed the ground-breaking SELF DRIVE Act which established a federal framework to allow up to 100,000 AVs on US roads in the next 3 years. This has profound implications for the speed at which we'll see development and testing of this technology in the United States.
Lyft's announcement of their open platform for self-driving car companies laid the groundwork for AVs to reach consumers en masse.  Traditional car companies like GM, Ford, and Jaguar Land Rover all partnered with Lyft. As did upstarts like WayMo, nuTonomy (now Aptiv) and Drive.AI.  And Uber committed to buying 24,000 Volvo XC90s with full self-driving capabilities. A deal valued at more than $1B.
1.  You Can Feel It.  It's Electric.
Referencing a bad wedding song is not the best way to emphasize the importance of the rise of electric vehicles. But its catchy.
As exciting and futuristic as Autonomous Vehicles may be, 2017 was by far the year of the electric car. In my lifetime, I never thought I'd see such historic commitments for transportation that will be powered by sustainable energy sources.  I thought the addiction to fossil fuels would be a slow and never-ending evolution. But 2017's announcements for the adoption of electric vehicles proved that a revolution toward electrification is upon us.
Nations Awake
Britain, France, Netherlands, and Norway all made bold commitments to finally ban the sale of petrol and diesel burning cars starting as early 2020.
In Asia – where the automotive sector is expected to see the largest growth in total car sales – India and China also announced plans to forbid the sales of high emissions vehicles.  These heavily populated countries have seen the massive costs of pollution.  In India, for example, air pollution accounts for 1.2 M deaths per year.
Even in the polarized political climate in the US, the tax reform passed last year extended the federal EV tax credits. Between the health costs of pollution and the reliance on imported energy sources, governments globally have moved in lock-step to embrace vehicle electrification.
Car Manufacturers Heed the Call
Perhaps thanks to the leadership of these nations, car manufacturers responded. Whereas in the past automakers tinkered with or created EVs as compliance cars for governments and states like California, last year the car companies went all in on EVs. Leading up to, and at, the Frankfurt Autoshow, car companies made seismic announcements about EV commitments.  Volvo committed to producing all electric, or hybrid cars, by 2019. Audi announced that 1 in 3 of its vehicles will be electric by 2020.
US manufacturers, traditional laggards in emissions efficiencies, also leaned in.  GM committed to producing 18 electric cars by 2023. Ford's EV commitment nearly tripled from $4.5B announced last year to the $11B they announced at NAIAS last week.
Demand Grows
Surpassing 1M in sales, for the first time ever, electric vehicles had another banner year.  As a category, EVs are the fastest growing segment of car sales. Purchases by Chinese consumers and the adoption of mass-market sedans accounted for this growth. The arrival of the Chevy Bolt and the fanfare for an amazing 500,000 pre-orders for Tesla's Model 3 made last year historic for a previously niche car type.
Charging Ubiquity 
In the past, the challenge with converting to electric vehicles has been the lack of charging stations to overcome range anxiety.  However, last year EV infrastructure rollouts alleviate this concern.
US charging infrastructure surpassed 50,000 stations in 2017, according to the Electric Vehicle Charging Association (EVCA). That's especially impressive given that most charging is done at home stations  – which are not included in these 50,000 stations.
Also, as a consequence of its diesel emissions scandal, VW agreed to invest $2B in EV infrastructure nationwide. Its subsidiary, Electrify America, is installing 240 sites with 320 kWh over a two year period.  They will reach as many 3,000 stations by 2027. Because of their greater electricity load, these stations will also charge faster.  Filling a battery to 80% of its capacity will take 15-20 minutes and with minimal degradation of the battery.
Europe's charging infrastructure is also expanding.  Ionity – a joint venture between car makers – launched 20 supercharger locations last year and will have up to 400 by 2020.
The End is Just the Beginning
2017 laid the groundwork for transformative change in transportation as we know it. Transportation's future is bright. It's ready to become pollution free, congestion-free, and built for people – not vehicles.  A decade from now, we will look back at 2017 as indeed revolutionary.